Mission Servants

The Rev. Eric C. Goldy, Pastor and wife Lynnette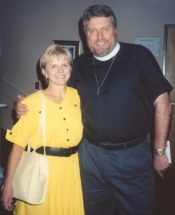 Eric and Lynnette Goldy live in Pueblo West. Ministry and Christian service have been a part of their lives since their youth - especially in leading youth groups, counseling and planning summer camps and programs.
Eric was ordained May 2, 2001. Eric was a Chaplain in the Colorado Department of Corrections prison system for five years. He was based at Fremont Correctional Facility in Canon City. He has also served as the Executive Director of the Episcopal Camp and Conference Center for six and one-half years, with a focus on youth programs and ministry.
Lynnette has served as a board member for eight years working with youth. She has also been a Sunday School teacher for children and adults. She is a published author and poet, her latest release is a children's book titled "The Adventures of Periwinkle the Crab".
Eric and Lynnette have two adult children.
CATCH THE VISION & RIDE THE WAVE!!!